Palm Springs Eternal

By Marc Lallanilla
January 2002
Out & About

Ah, Palm Springs. The Babylonian excess, the sun-splashed splendor. But in recent years all this wretched decadence has given way to, well, even more Babylonian excess and sun-splashed splendor. Will it ever stop?

Apparently not. When the Agua Caliente band of Cahuilla Indians settled in the region over 2,000 years ago, they knew a good thing when they saw it. That good thing, the natural mineral water of the local hot springs, is still available to the public at the Spa Resort Casino (and still owned by the Agua Caliente Indians).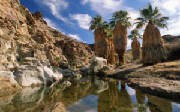 But even they could not have envisioned the region as a playground for the international glitterati. Escaping the paternal oversight and morality clauses of early Hollywood's studio system, movie stars like Clark Gable, Errol Flynn, Bette Davis and Carole Lombard turned Palm Springs into a haven for hedonism. The trend continued after WWII, and Rat-Pack partiers like Frank Sinatra, Elizabeth Taylor, the Gabor sisters and Dean Martin found a sunny, martini-soaked hideaway at the foot of Mount San Jacinto.

Other, more serious post-war visitors found in Palm Springs the perfect environment to experiment with cutting-edge design. Modernist architects like Richard Neutra, John Lautner and Albert Frey turned the city into a full-scale laboratory by constructing some of the 20th Century's most avant-garde buildings, and outfitting them with furniture now considered design classics. The trend continues to this day, and the residential neighborhoods of Palm Springs are dotted with new homes using innovative forms and materials.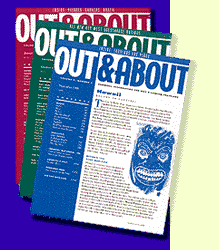 The popularity of the area waned in the 1970's, and the only thing "hip" about Palm Springs was "surgery." This lack of economic growth had an ironic result; the homes and businesses that were once too corny and old school to even register as a blip on the cultural radar screen were preserved by neglect, and priced accordingly.
Then in the 1980's, a fondness for cocktail culture crept back into our consciousness; when out-of-town hipsters stumbled upon still-intact Tiki lounges, surfboard coffee tables and budget-priced modernist architectural gems, it set off a feeding frenzy that continues unabated today.
Of course, someone (and you know who you are) told the rest of the world, and now Robert Downey Jr., Tom Ford, artist Dale Chihuly, Bruce Weber, Jennifer Anniston, Brad Pitt and a host of other celebs are frequent visitors or home owners. (Okay, I guess we can forgive you for telling Brad.) Though prices on everything from real estate to boomerang ashtrays have risen, Palm Springs is still a bargain compared to L.A. or New York.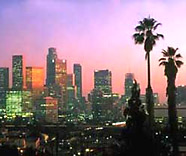 AN APPETITE FOR LIFE

A Roundup of L.A.'s Great Bars and Restuarants

By Marc Lallanilla
November 23, 2001
Frontiers Newsmagazine

Searching for the center of Los Angeles is like searching for nutrition in a pepperoni pizza; the more you look, the more you realize it's just not the point. The really good stuff is sprinkled all over, so just dig in.

This is equally true for those on a quest for sustenance and libations. Though the best of L.A.'s restaurants and bars may once have been centered in West Hollywood, Beverly Hills or the Sunset Strip, as the city grew so did the outlying neighborhoods. World-class dining and drinking establishments are located in neighborhoods from the Valley to the beach to downtown. Venturing outside your local neighborhood is really the only way to appreciate all the excitement and diversity that L.A. has to offer.

The rating system for restaurant prices used in this article is as follows:

$ - inexpensive, most meals under $12
$$ - moderate, most meals $12-25
$$$ - expensive, most meals over $25

SAN FERNANDO VALLEY

Once disparaged as "a graveyard with lights," the San Fernando Valley was originally home to orange groves and ranches. In recent years, however, the Valley has come into its own as a cultural and entertainment center. In fact, this uppity suburb is now lobbying to secede from the city of Los Angeles. (Rumors that the new city will be named Valet Park appear to be unfounded.) Many innovative chefs and restaurateurs have opened their first venues in the Valley. The rewards are yours to enjoy.

Le Petit Bistro (13360 Ventura Blvd; 818/501-7999; $$), sister to the La Cienega location of the same name, serves bistro cuisine in an intimate setting. Pinot Bistro (12969 Ventura Blvd; 818/990-0500; $$) is a member of the popular Pinot/Patina family of restaurants, offering bistro-inspired cuisine in a comfortable, sophisticated setting. Cafe Bizou (14016 Ventura Blvd; 818/788-3536; $$) is a crowded neighborhood favorite and for good reason - their innovative approach to French cuisine wins raves. Mexicali (12161 Ventura Blvd; 818/985-1744; $) is a consistent winner, and not just for their low prices: light and healthy Mexican food and handmade tortillas have made this restaurant a local fave. Poquito Mas (3701 Cahuenga Blvd; 818/760-8226; $) dishes out great tacos and burritos at starving-actor prices. Dine on the shaded outdoor patio and you might spy a star or two. No description of the Valley's culinary pleasures would be complete without mentioning Krispy Kreme Donuts (7249 Van Nuys Blvd; 818/908-9113). Unless you've had a warm, fresh-off-the-rack Krispy Kreme glazed donut, you can kiss your LAPD career good-bye.

The fun doesn't stop at dinner, either. Rawhide (10937 Burbank Blvd; 818/980-8310) and Oil Can Harry's (11502 Ventura Blvd; 818/760-9749) are L.A.'s country & western nightclubs. Leave your boots in the bunkhouse on Saturdays as Oil Can Harry's hosts a retro disco night. The Oasis (11916 Ventura Blvd; 818/980-4811) is a popular piano bar. Beware of the subspecies called Piano Nazi - request any Barry Manilow and things could get ugly. Apache (11608 Ventura; 818/506-0404), also known as "The Creepy Teepee," hosts a 70's night on Saturdays.