The Pentagon's 'blistering' fast new
plane: Crash and burn?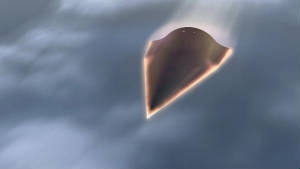 DARPA
Why do the military's experimental
supersonic airplanes keep disappearing?
By Marc Lallanilla
August 11, 2011 — An experimental airplane capable of flying unmanned at 20 times the speed of sound was launched today from Vandenberg Air Force Base in California — and promptly disappeared.
The "blistering" fast military aircraft, dubbed the Falcon Hypersonic Test Vehicle 2 (HTV-2), is designed to cover a distance equal to that between New York and Los Angeles in less than 12 minutes. At such a speed, "air doesn't travel around you — you rip it apart," the military boasted on its website. But shortly after the HTV-2's flight began, engineers lost all contact with the craft. Here, a brief guide:

What happened on its flight?
The HTV-2 was sent into the upper reaches of the atmosphere on the back of a Minotaur IV rocket. It then successfully disengaged from the rocket and began to nose-dive toward the Pacific Ocean, where it was supposed to level off and reach speeds of about 13,000 miles per hour for about 30 minutes. But all contact with the HTV-2 was lost just a few minutes into the flight — and an "eerily similar" problem occurred during a 2010 test flight of the first HTV-2.

What occurred on that first flight?
In April 2010, after just nine minutes of flight time, the first HTV-2 craft was also lost. Both planes were equipped with what the military calls "autonomous flight termination capability," which means the wedge-shaped airplanes are designed to automatically crash into the ocean at the end of their test flights.
Big Guns:
When Cops Use Steroids
Steroid Abuse Can Contribute to Police Brutality -- Even Murder
By MARC LALLANILLA
May 24, 2005 — Amid the furor over steroid use by superstar athletes like baseball's Jose Canseco and Jason Giambi, another story is quietly unfolding in small towns and big cities across America — cops on steroids.
From New York City to Norman, Okla., police departments are investigating a growing number of incidents involving uniformed police officers who are using steroids to build beefy, muscular physiques.
Police departments are concerned because it is illegal in the United States to possess steroids without a prescription. They are listed by the Drug Enforcement Agency as a Schedule III substance, like morphine, opium, barbiturates and other prescription drugs.
But there is an even greater problem: violent, aggressive behavior, a common side effect of steroids, can contribute to police brutality — even murder.
For the full story, go to ABC News.
Is the United States Ready for a Bioterrorism Attack?
Some Experts Fear our Preparations Are Woefully Inadequate
By MARC LALLANILLA

Dec. 2, 2004 — During the anthrax scare of 2001, when envelopes containing the deadly bacteria were mailed to locations throughout the country, 22 people were infected with the disease. Five eventually died.
The incident, occurring shortly after the Sept. 11 terrorist attacks, underscored the vulnerability of the United States to bioterrorism. Those responsible for the anthrax scare have never been found.
But has our preparedness improved since then? According to many experts, the answer is no.
And anthrax is only one of several bacteria and viruses that could be used in a bioterrorist attack.