Turn Down the Thermostat
to Burn Fat?
Research links obesity in the U.S. and U.K.
to warmer indoor temperatures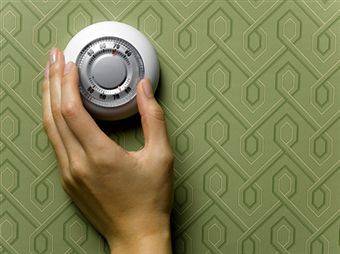 By Marc Lallanilla
January 31, 2011 — A number of factors have been cited for the epidemic of obesity in America and Great Britain: genetics, food consumption and lack of exercise are all familiar culprits. But British researchers believe they may have found another cause—warm houses and workplaces.
In their review, the researchers noted that average indoor temperatures during the winter months have increased since the 1970s in both the U.S. and the U.K.; in the U.S., temperatures have stayed consistently high in the average living room, and nearly 2 degrees F warmer in bedrooms at night, which is significant.
There are also fewer cold pockets in homes, such as in hallways, leading to less exposure to variable temperatures. At the same time, workplace temperatures are believed to be increasing.
The researchers blame all of this on a culture of "thermal monotony" brought about by the widespread use of central air conditioning and heating.

For more, visit HealthCommunities.com
New Bacteria Threaten Public Health
Emerging Strains of Bacteria Are Resistant to Antibiotics
By MARC LALLANILLA
Nov. 9, 2004 — Like many young athletes, 12-year-old Nicholas Johnson spent last autumn playing football with his local team, the Stafford Spartans from Stafford, Texas. A minor shoulder injury sent him to the doctor.
Five weeks later, Nicholas left the hospital, lucky to be alive.
"He was like a stroke victim when he came out of the hospital," said Nicholas' mother, Janet. "He was on a ventilator for 12 days. It was the scariest thing I ever went through."
Nicholas was felled by a deadly new bacterium named MRSA that is sweeping the United States and Europe.
And medical experts are alarmed that MRSA, or methicillin-resistant Staphylococcus aureus, is just one of several deadly new strains of bacteria that are becoming resistant to modern antibiotics.
"The development of the MRSA problem is an example of what we're going to be facing on a regular basis," said Dr. John E. Edwards, professor of medicine at the David Geffen School of Medicine at UCLA and chief of infectious diseases at Harbor-UCLA Medical Center in Los Angeles.
For the full story, go to ABC News
Research Links Month of Birth to Disease
By MARC LALLANILLA
Feb. 3, 2004 - You may dismiss astrology as a harmless pseudo-science, but your birthday could have more importance than you think.
Some scientists now believe the month in which you were born may predispose you to certain illnesses.
Medical experts worldwide have found specific illnesses and behavioral disorders are more prevalent among people born during certain months or seasons of the year. The list includes asthma, epilepsy, multiple sclerosis, leukemia, dyslexia, diabetes and others.

Schizophrenia, for example, has been shown to be more common among people born in January, February and March. Narcolepsy, a sleep disorder, is more frequent among people born in March and less common among those born in September.
So what causes the link between disease and birth month or season? Most scientists suspect environmental factors are the culprit.
For instance, fetal exposure to seasonal viruses like the flu virus, or to a symptom of viral exposure like fever, might be a possible cause.